In September of last year, I was sitting in a Thai restaurant in Hong Kong with a new friend Keisha who oozes #blackgirlmagic.
Keisha started the award winning social enterprise Stories of Us. They promoting parent child reading-aloud within early childhood literacy. Look her up.
Keisha and I were sitting on the patio and we saw this gorgeous, pregnant black woman walk by. And I wanted to say something, hi! Where do you get your hair done? Can we be best friends?? But that would be weird, right?
By contrast, my husband and I were walking through the subway and we see a tall black man walk by. At this point in our Hong Kong stay, we were still looking for a barber. Half-joking, half-desperate, I was like, "Hey Dave, black guy with a fade! Go ask him where he gets his hair cut!"
Within two minutes, the guy was offering to walk Dave to his barber personally!
That's just not my experience in HK with other black people.
Maybe it's a cultural difference. Maybe it's a bad combination of overzealousness and fear of rejection, but I haven't been able to make a connection or even really get a smile from another black woman on the street. And that made me sad.
So, fast forward to that Thai restaurant with Keisha. I'm confiding in her the anecdotes of my experiences and we're laughing and relating and it's a good feeling. And as these stories go, we jokingly throw out the idea of handing out business cards that are like, "Hey! You're here! I'm here! And your hair is amazing! Let's be friends!"
And then I started a facebook group and an instagram and a twitter:
My intention was to get the women on board to spread the love around Hong Kong, not just me. Then spread it online. Then have it move back through the United States.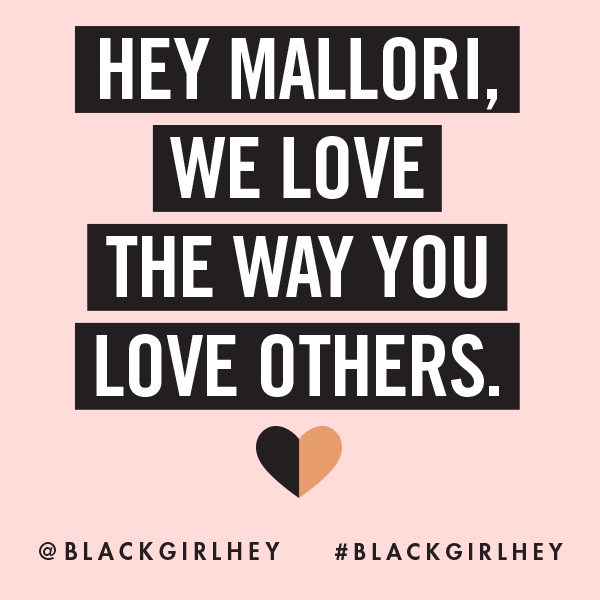 The feedback was great and really supportive, but...
I just couldn't follow through. And it was for all the typical reasons: Life got in the way. I got busy. I'm sorry girls. I let you down.
But I still want to contribute to the betterment of this world.
So this is my input to further the cause of unifying all the smart, beautiful, fierce women I see around me. We don't have to be besties, but I want you to know that in this place where there are so few of us, where we are stared at and invisible all at the same time, I see you. You're amazing. You're dope. And you are loved. Let's celebrate each other's accomplishments, encourage each other in our strife, love one another as Christ loves us.

When you see a black girl online or in the street, be sure to give her a "Hey!" and let her know that she is killing it today.
As a part of my own self-care, I want to start #blackgirlhey again. It may not be immediate, but it will be consistent and all for you! Black Girl, you're amazing. You're fierce. You slay. And you're not alone. Just wanted to spread a little love in your direction and say Hi! #blackgirlhey
P.S. Want to join the cause and spread the love?